About Our Services
---
Unlike traditional video companies, we're able to maintain affordable pricing and efficient timelines by offering packages that utilize both High Definition & Standard Definition video recording capabilities. This often mixes a variety of technologies but will get you the same result; a complicated event captured with a variety of options to be edited . Whatever the budget may be, you will still receive the same experienced and motivated crew no matter what the pixel size is!

For us, it's only about getting the best shot and not the latest technological fad.

Being born and raised in a place like Portland, Oregon, it's hard to ignore the amazing work of so many community organizations and volunteer groups that operate in town and throughout the Pacific Northwest. That's why we always offer a

10%

discount to our project partners that qualify as

501(c) Non-profit organizations

. Just let us know you're interested and we'll gladly lop it off the final invoice!

With many a successful project under our collective belts, as well as routine access to the valuable resources & staffing of

Stew Dodge Sound

, the Jeff Dodge Visual Services team will always stand confident in making your cinematic masterpiece come to life.

We look forward to working with you!


SERVICES INCLUDE:

*Recording Live with Multiple Cameras
(includes both SD & HD pricing)

*Final Cut Pro X & FCP 7 Video Editing

*Motion Video Graphics

*Reaper Audio Sweetening

*DVD Authoring

*Television & Web Spots

*Seminars & Archiving

*Music Videos and more...
---
ABOUT THE OWNER:
---
Despite having a wealth of experience gained through technical video instruction at the Sabin Skills Center, occasional acting gigs, and a handful of sound engineering gigs spanning the late 1990's, I didn't really begin operating under the Visual Services moniker until

2002

when Mr. Patrick Randolph Bell hired me to produce a short, controversial video collage entitled,

"The Shaving"

for him.

​ Within a couple weeks, I had used my first payday to start,'Jeff Dodge Visual Assistance' (as I called it back then).

---

Initially, I was leaning toward more academic pursuits for the business model (my BA was in History - pardon my 'wordiness' but it does tends to be a habit of the major - I suppose being a Gemini doesn't help either...), but it wasn't long before I started picking up various projects through my father's company,

Stew Dodge Sound

.

While they were usually few and far between at first, several of his clientele began to surface with regular events that needed a videographer (and usually at the last minute). By 2009, I had found myself working with such diverse clientele as The Fort Vancouver Historic Trust, Social Enterprises, Daimler Trucks North America, GoGreen Conference, Habitat for Humanity, Literary Arts as well as a wide range of musical acts including Norman Sylvester, Soul Vaccination, Tall Jazz and Steve Cannon.

Between 1999 until present day almost every country on the planet has seen an explosion regarding new technologies, video formats and gadgets to view those formats on. Like a great deal of traditionally trained videographers, I started getting used to the new Standard Definition and then High Definition protocols while trying to keep myself updated on the latest in video editing options. Now we have 4K monitors begin to appear in the market place and 10K pixel screens looming in our not too distant future. A 10K pixel monitor will have essentially have a screen resolution beyond what the human eye can discern. Frankly, it can all be a little overwhelming.

But over the years, I've noticed a couple of regular patterns that always emerge; good sound and good timing.

. One constant that heavily influences my work is my Dad's insistence upon how important good sound matters in any form of recorded video or live event (both if we're lucky!)

We may not be able to control all aspects of timing, but through careful preparation and organization, we can give ourselves the best chance at capturing any moment of a live event.

Another pattern I've noticed is that a good shot is a good shot no matter what kind of camera you're working with. That is always the primary goal for me.

Throughout it all, I've also been extremely fortunate to enjoy the support of my best friend, a talented artist and my wonderful life companion, Jemila Hart. On the few occasions we are not busy with our respective jobs, art, or my musical aspirations, we love spending time in the high desert regions of Eastern Oregon.

Jeff S. Dodge

My exciting cameo with Academy Award Winner, Marlee Matlin in WHAT THE BLEEP DO WE KNOW (Released 2005 - shot in Portland circa 2002). It was of too bad they made me take my glasses off - I couldn't see a thing...

---

---
---
---
INDEPENDENT CONTRACTORS:
---
David M. Craig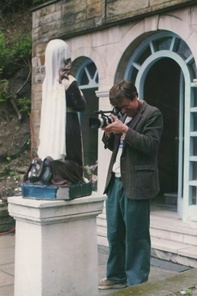 Videographer / Editor / Producer
Co-Owner - Bag of Dreams Enterprises, LLC

A fascination with cameras and a near obsession with listening to people talk has led David Craig to pursue documentary film making. "I was able to sit in on hundreds of interviews when I worked in educational television and my curiosity continues. I want to know why people do the things they do."

In Portland, Mr. Craig met up with Attack of the Flix - an organization who sponsor monthly screenings. "I've been able to reedit many of my documentary shorts that had aired on my old public access show Odds & Ends. I had a chance to archive revised versions of these segments and I've seen how my editing skills have progressed." Videos on subjects like the ruins of a miniature Holy Land tourist attraction and a blue face painted, black cape wearing performer named the Torch Marauder have found a new audience. Current projects include the recent award winning short about a window display at an antique store in Craig's neighborhood and an upcoming project on model airplane control line flying. "I keep my eyes open for stories. I'm still curios and my fascination with cameras always has me looking for a cool shot."

Mr. Craig has been a regular contributor to the Dodge Visuals team since 2009 and is expected to be a lead camera on several more projects as well as a secondary SD / HD Video Editor throughout 2015.
---
---
RECOMMENDATIONS
---
---
Dan Palodichuk
Library Reserves Coodinator at California State University, Los Angeles

I highly commend Jeff as being an expert in his field . He is diligent ,dedicated and highly motivated to achieve excellence.
April 4, 2012



Tom Eberle Founder/CEO at Airlytics

I recommended Jeff to a client of mine where he and I worked together in creating a video piece to showcase their new mobile kitchen. Jeff did a fantastic job in producing the video which has been a key element in promoting my clients outreach program. Jeff is a real professional when is come to listening to client needs. He knows all the right questions to ask to efficiently get the job done on time. Jeff was responsive to change requests and left my client very happy with the end result. Finally, Jeff understands the technical aspects of media production and what needs to be done to make media projects portable. I would definitely hire, recommend, and work with Jeff in the future

January 21, 2011
---
Kyle Kihs
Executive Director Pacific Northwest Section - American Water Works Association

I recommended Jeff to a client of mine where he and I worked together in creating a video piece to showcase their new mobile kitchen. Jeff did a fantastic job in producing the video which has been a key element in promoting my clients outreach program. Jeff is a real professional when is come to listening to client needs. He knows all the right questions to ask to efficiently get the job done on time. Jeff was responsive to change requests and left my client very happy with the end result. Finally, Jeff understands the technical aspects of media production and what needs to be done to make media projects portable. I would definitely hire, recommend, and work with Jeff in the future
January 30, 2010

Lorelei Young
Keepsake Family Tree Video, Owner

Jeff has a great passion for his music and movie productions. He is very committed to his projects and see's them through to the end. Jeff is reliable and has calm mannerism that makes him easy to work with.
January 4, 2010